Henry Francis was born in 1733. According to the earliest known record, on February 1st, 1756, Henry Francis enlisted in the Virginia Militia during the French and Indian War. He appeared on several lists as being in Captain Christopher Gist's company during 1756. In 1757, his name appeared as a Corporal on rosters of Captain Robert Spotswood's company. "Size Rolls" for these companies indicated his age, that he was 5' 7" tall, dark, well-set, and that he had black hair. He had enlisted from Frederick county, Virginia, and gave his "country" as Maryland. The first list gives his occupation as shoemaker; the second as a planter, listing his "country" as Prince William county.
By this time, he was already married to Leah _____, and their son Henry (Jr.) had been born on April 1st, 1755.
Henry Francis had two brothers. John was born in 1719 (also giving his "country" as Maryland), enlisted in the French and Indian War on November 5, 1754, and served for three and a half years in the 1st Virginia Regiment under Col. Washington. He was killed by Indians. William was a soldier in the 1st Battalion of the Royal Americans for three years, and also died in the service.
Henry and Leah had another son, John, born about 1760. In August, 1762, Henry, then a Sergeant, was discharged from the 1st Virginia Regiment, having served six and a half years.
Cripple Creek flows through the verdant and scenic mountains of southwest Virginia. It has been immortalized in the song "Goin' up Cripple Creek, Goin' on a run, Goin' up Cripple Creek, Have a little fun...." As Virginia's counties evolved and formed, this area fell successively into Augusta (1738), Botetourt (1770), Fincastle (1772), Montgomery (1777), and finally Wythe (1790) counties. Henry and Leah Francis, with their family, were among the first settlers of this region.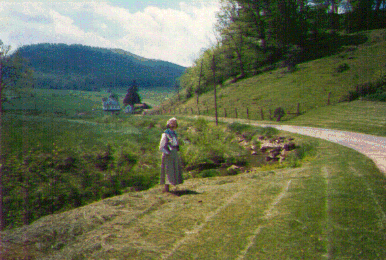 In 1768, Henry Francis was listed as a purchaser at the public sale of the estate of James Cartie in Augusta county, Virginia. In 1770, he was appointed Constable for the Precinct of Cripple Creek. Various records mention him throughout the decade of 1770 to 1780. In 1773 he was given leave to build a mill on his land, on the banks of a smaller creek which still bears the name Francis Mill Creek. In 1774, a survey of his land was recorded in the Montgomery County Deed Book. At this time he owned 750 acres on both sides of Cripple Creek, including the land upon which the town of Cripple Creek was to be built. At the same time, 143 acres of adjoining land were transferred to him by Lucas Hood. For a few peaceful years the Francises were able to devote their energies to pursuits of home and family: the mill, as well as a house and still house were built. Henry was also active in the public affairs of the time, serving on juries and overseeing and surveying the roads which were being built as the area began to develop. The inventory of his estate indicates that he was prosperous by backcountry standards.
But peace was not to last, and unrest again grew in Virginia as the Colonies struggled under England's rule. On the 20th of January, 1775, the Freeholders of Fincastle County met and unanimously agreed to the Fincastle Resolutions. They declared their allegiance to King George III, so long as they could enjoy the free exercise of their religion as Protestants, and their liberties and properties as British subjects. They strongly urged that the differences between the Sovereign and the Colonies be peacefully resolved. However, they declared that "we are deliberately and resolutely determined never to surrender [our rights and liberties] to any power upon earth, but at the expense of our lives."
As the Colonists took up arms against Britain, in January 1776, Henry Francis took the oath as an Ensign of the Militia. Three months later, a company was formed of those living on Cripple Creek: Andrew Thompson was the Captain, and Henry Francis the Lieutenant. On November 30, 1777, he took the Oath of Allegiance to the Commonwealth of Virginia and the United States. In March 1778, Henry Francis replaced Andy Thompson as Captain of the company. During that year the company marched to North Carolina and returned. Most of the specific details of the service of the company are not recorded, but it is known that the Montgomery County Militia was kept busy locally fighting Indians who were allied with the British, fighting the local Tories, and defending Fort Chiswell and the Lead Mines, which provided lead used to forge musket balls to the Patriot armies in Virginia and North Carolina. In a letter to Col. Arthur Campbell in July of 1780 following a local Tory uprising, Col. William Campbell wrote: "I then detached between sixty and seventy men under the command of Captain Francis, with instructions to collect all the stocks of horses and cattle belonging to the insurgents they possibly could, only leaving to each family one horse creature and what milch cattle were necessary for its support."
On or about September 29, 1780, Captain Henry Francis' company of militia, together with the companies of Captains Abraham Trigg, George Parris, and Isaac Campbell, rendezvoused at the Lead Mines under their commander, Major Joseph Cloyd. They followed militia who had marched to North Carolina earlier under Colonel William Campbell, in pursuit of the British Colonel Patrick Ferguson. In western North Carolina Major Cloyd's forces received word of Ferguson's defeat at Kings Mountain, and were ordered from there to Surry County (NC), where a band of between 400 and 900 Tories threatened the Patriots.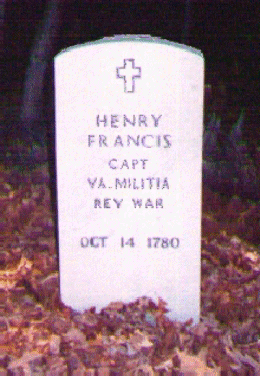 On October 14, 1780, the four companies of Montgomery County, Virginia Militia, together with North Carolina Militia, met and defeated the Tories at the Battle of Shallow Ford. Captain Henry Francis was shot through the head and killed (the only Whig who died in the battle). His sons John and Henry (Jr.) also fought in the battle. Henry (Jr.) was only a few feet from his father when he fell; John fired at the Tory who had shot his father and believed that he killed him. Captain Francis was buried at the battle site.
Though his first name and Virginian origin were unknown to the inhabitants of the area until 1994, the grave of Capt. Francis was cared for through the years by people living nearby, notably Colonel Joseph Williams of Panther Creek in the early years, then by Peter Clingman and his descendants in Huntsville. There was a fence around the grave until the Civil War, when it was torn down and used as firewood. In 1994, descendants of Henry Francis authenticated his identity, and a new gravestone was dedicated at a ceremony by the Yadkin County Historical and Genealogical Society.
ACKNOWLEDGMENTS: Material upon which this article is based compiled by the author, by Charles O. and Nona Francis, and other Francis descendants.
© 1996-2011 Ann Brownlee. This page was created on December 1, 1996 by Ann Brownlee. Last revision August 2011.
For further genealogical information, there is a Francis Family Organization and Newsletter. Please contact:
Charles O. and Nona Francis
1326 Fordham Avenue
Modesto, CA 95350